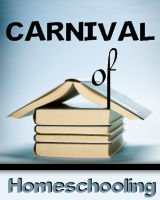 "When I recently expressed to an acquaintance that I was struggling with balancing everything, she asked me what had happened to my Wonder Woman costume. I promptly told her it was a wrinkled mess under my bed, along with everything else I can't find."-- "Confessions of a Not-So-Super Homeschool Mom," posted at Hearthside Homeschool Reviews...and More!
For those of you struggling to even find your superhero costume, much less iron it or fit into it, this week's Carnival of Homeschooling is for you.
How do you know you're a homeschooling superhero?

The Weird, Unsocialized Homeschoolers present The Public School Parents' Guide to Homeschool Parents.

Alasandra's Homeschool Blog presents Book Review ~ Love in a Time of Homeschooling, Chapters 1 & 2.

Sage Parnassus presents My Mother is the Most Beautiful Woman in the World.


How do superhomeschoolers spend their days?

Throwing the golden lasso of truth

Barbara Frank Online admits that Nobody Told Me That Homeschooling Would Change My Husband and Me.

Footprints in the Butter presents "But my kids don't listen to me...".

Homeschool and Etc. posts Fighting Brothers: "Sometimes we just don't get along."

The Berry Patch posts The Benefits of Homeschooling and replies "I learned that siblings really can be good friends. Yes, they fight a lot, but they are also fierce friends."

Catching bullets in their teeth

Linda Dobson presents Unschooling UNEDITED posted at PARENT AT THE HELM.

Camp Homeschool answers that old question "What About Socialization?"

God Made, Home Grown presents reasons Christians should consider homeschooling in "This Little Light of Mine (Part 1)."

Leaping over tall buildings and other hurdles

As For My House is suddenly faced with high school planning in "Schooling Comes Home. Again."
Homeschool Trenches presents Our Journey With a Special Needs Child.

Special Needs Homeschooling presents Ending this year and thinking about next already!.

Masters in Special Education presents Top 50 Special Education Blogs.

Testing their superstrength

Homeschooling Hearts and Minds presents Tuesday's Toolbox: Assessment Testing?.

My Domestic Church presents The ACT test and my homeschool.

Solving the world's problems

Denise presents Word Problems from Literature posted at Let's Play Math!. "I hope you enjoy these printable word problem worksheets based on Mr. Popper's Penguins, Poor Richard, and The Lion, the Witch and the Wardrobe."

Day by Day in Our World presents Math and Language Learning Fun, about "a workshop we attended showcasing alternate ways to tackle some math and language arts."

Fighting villains

Princess Kitten presents Cops and Robbers *coughcough* posted at Kitten's Purring.

Blah, Blah, Blog presents Evil Chickens.

Finding adventure in learning

Heritage Homestead and Homeschool Academy wonders why June has to be The End of the School Year? "For our family, homeschooling is a year round adventure - and we love it!"

The Marine Corps Nomads also Homeschool Year Around.
Dewey's Treehouse posts "Love of learning through planning and purpose."

Lesson Pathways Blog presents To Co-Op or Not to Co-Op.

Our Busy Homeschool presents I Use an iPod Touch for Homeschool .

Faith, Family and Fun asks "How Do I Know What To Teach?"

Loving Learning at Home asks the same question.

Fenced in Family presents What I've Learned Since Last Week. (This includes good advice about toddlers and chocolate-covered graham crackers.)

Denise reviews a writing resource in Spilling Ink: Cool Bookmarks posted at Blogging 2 Learn.

Little superheroes grow up fast

Why Homeschool is Trying Something New. "Lately, I've struggled to meet the needs of my youngest daughter (age 9) because Baby Bop (age 3) takes so much of my time."

ElCloud Homeschool: Busy Minds, Busy Hands, Busy Feet asks the same question: How do I homeschool with multiple ages, especially little ones?

The Thinking Mother presents What I Like About Homeschooling (by My Nine Year Old Son).

A Day in the Life also posts about Children who love to learn.

SmallWorld presents The Road to Independence, Part 2.

Creating an album of superhomeschooler memories

Reese's View Of The World presents Homeschool Means.... "We visited a local wildlife refuge & got to spend some up-close time with a special baby..."

MrsMamaHen.com posts about a Homeschool Spring Formal/Prom

Roscommon Acres presents Capture the fragrance of spring with lilac jelly!

The Legacy of Home presents Ye Old Country Store.


That's it for this episode, superhomeschoolers. Tune in next week for more adventures, starring Mrs. Mama Hen. And thanks to The CateCredibles for continuing to organize the Carnival of Homeschooling.